Though we all may love and adore the morning and afternoon pick-me-up of a delicious cup of coffee, there are many things you can do and add to your daily routine in order to boost your bodies' natural energy levels.
1. Say NO to the Snooze Button. Sleeping the extra five minutes in the morning can actually cause you to feel more exhausted and groggy. It's better to force yourself into waking up and getting right out of bed, no matter how difficult it may seem some days.
2. HYDRATE! Especially first thing in the morning, drinking some water is the best thing you can do to wake your system and get you ready and energized for the day. The benefits of drinking the required amount of water (8 cups a day) are endless! From losing weight to getting rid of headaches, water truly is the best medicine.
3. Caffeinate Wisely. Although a cup of coffee will help in boosting your alertness, be careful to not make a habit of it. The long term effects of too much caffeine takes quite a toll on the body.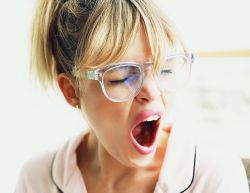 4. Set a Schedule. Just as you would set your morning alarm, create one for getting to bed, or at least for beginning your nightly routine. Getting to sleep at the same time each night actually helps you feel much more alert and awake in the morning.
5. Reach for a POWER SNACK. Foods like berries, apples, and mixed nuts are low in sugar and high in protein and actually make you feel much more energized.
6. Have a cup of tea. A recent study shows that a cup of black tea actually aids in reducing daily stress. This will allow you to focus more on the task at hand rather on the worries that so often drag us down throughout the day.
7. Take a walk. Especially if your job consists of sitting at a computer desk inside all day, with little sunlight. There is nothing better than taking your lunch break outside and enjoying some sunlight and fresh air. The change of scenery mixed with getting your blood flowing will do wonders to your mood.
8. Skip the night cap. Having a nice glass of wine in order to "unwind" after a long day may seem like a good idea, but it can actually greatly disrupt your sleep cycle and leave you feeling more exhausted in the morning.